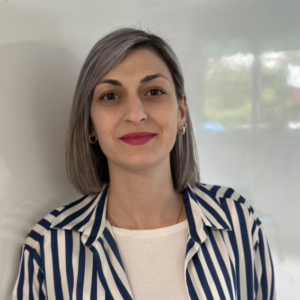 Η Maria (BA, MA, PhD Cand) είναι υποψήφια διδάκτωρ στο τμήμα Αγγλικής Γλώσσας και Φιλολογίας του Αριστοτελείου Πανεπιστημίου Θεσσαλονίκης στον τομέα Αμερικανικής Λογοτεχνίας και Πολιτισμού. Είναι μέλος του Multimodal Research& Reading Group του ΑΠΘ το οποίο ασχολείται με την διδασκαλία της Αγγλικής γλώσσας και πολιτισμού με την χρήση πολλαπλών μέσων, όπως τα παιχνίδια διαδραστικής αφήγησης (https://www.new.enl.auth.gr/multimodal/).  
Η διδακτική της εμπειρία είναι πολυσχιδής. Έχει διδάξει στο πανεπιστήμιο το μάθημα «Δεξιότητες Έρευνας» στους πρωτοετείς φοιτητές του τμήματος Αγγλικής. Κατά την παραμονή της στην Αγγλία προετοίμαζε άγγλους μαθητές για τα GCSE και A-Level exams στην αγγλική γλώσσα και λογοτεχνία αντίστοιχα. Τα τελευταία χρόνια διδάσκει την αγγλική γλώσσα σε μαθητές όλων των επιπέδων και ηλικιών.  
Στο σχολείο μας διδάσκει μαθητές όλων των επιπέδων (Young learners, intermediate levels, exam classes).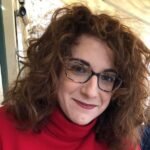 Kelly (BA University of Athens, MA University of London Birkbeck, Applied ling, MA Lancaster University, Tesol
Kelly is a passionate and experienced English Language Teacher committed to helping each individual student achieve their language learning goals whilst having fun doing it. She believes in life-long learning, the power of self-expression and collaboration, and tries to create a positive atmosphere of mutual respect and inclusivity for her learners. She teaches General English, English for Academic Purposes as well as Business English, specializes in a variety of exams and university admission standardized tests, and has taught teenagers and adults from all over the world in the UK and the USA.
She holds a Master's degree in Applied Linguistics and Communication and a Master's degree in Teaching English as a Foreign Language. She's also taught Academic Writingand Research Skills to undergrad and postgrad students in the USA in the English Department of Henderson State University while at the same time studying Rhetoric and Composition. Her research interests involve Second Language Acquisition, Lexicography, and Textbook Evaluation.
Kelly loves travelling, doing team sports and watching courtroom dramas and animal and ecology documentaries.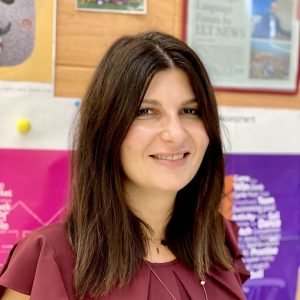 French LT - French Dept Coordinator
H Matina (BA, MA) είναι απόφοιτος της Γαλλικής Φιλολογίας του Εθνικού και Καποδιστριακού
Πανεπιστημίου Αθηνών. Έχει μεταπτυχιακό τίτλο σπουδών με ειδίκευση στην Ιστορία του
Γαλλικού Πολιτισμού και έχει παρακολουθήσει σεμινάρια ψυχοπαιδαγωγικής και
διδακτικής. Είναι επίσης, εξετάστρια και διορθώτρια του Γαλλικού Ινστιτούτου.
Εργάζεται στο σχολείο μας τα τελευταία 11 χρόνια και είναι συντονίστρια του Γαλλικού προγράμματος. (French Language Coordinator).